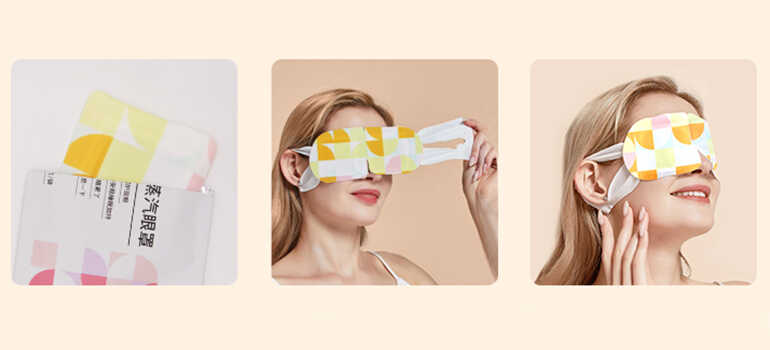 2023-08-14
Steam Eye Mask: The Perfect Combination of Technology and Beauty
Steam Eye Mask is an eye mask designed with scientific principles, designed to help users relieve eye fatigue and improve sleep quality. It releases warm steam to provide a moist and warm environment for the eye area, thereby soothing fatigue and relieving eye dryness.
02. Steam Eye Mask has the following unique features:
Warm steam release: Steam Eye Mask generates warm steam inside the eye mask by absorbing moisture to provide a moist environment for the eyes.
Adjustable temperature: Users can adjust the temperature of the steam eye mask according to personal preferences and needs to achieve the most comfortable eye soothing effect.
Fast heating: In just a few seconds, Steam Eye Mask can quickly generate warm steam, no need to wait for a long time.
03. Usage scenarios of Steam Eye Mask
The Steam Eye Mask is suitable for a variety of scenes, whether it is a busy working day or a relaxing weekend break, it can provide you with a comfortable eye soothing experience. Here are some common usage scenarios:
Office: After using the computer for a long time, wearing Steam Eye Mask can relieve eye fatigue and improve work efficiency.
Airplane: Wear it on long flights to relieve eye discomfort caused by dry air.
FAMILY: Wear it while resting or watching a movie, enjoying eye-soothing pleasure.
Travel: Wear it during long-distance driving or traveling to eliminate eye fatigue and make the journey more enjoyable.
Steam Eye Mask is a product integrating technology and beauty, bringing a new soothing experience to our face. Whether in the office, on the plane, at home or traveling, Steam Eye Mask can help us relieve eye fatigue and improve sleep quality. Although you need to pay attention to some matters during use, as long as you operate in the correct way, you can enjoy the unique charm of this technological beauty product.