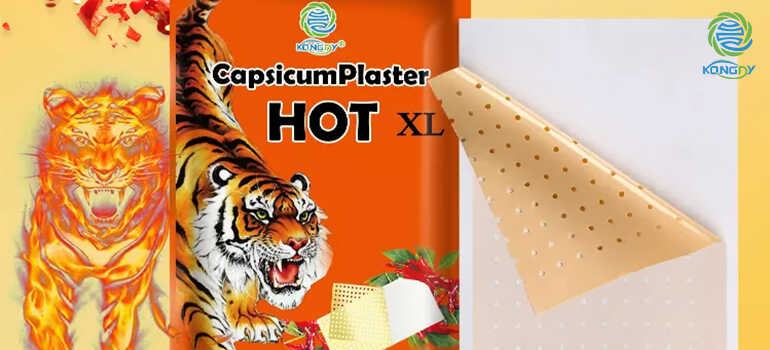 2023-03-15
Uaage of Capsicum Pain Patch and Three Points
Medication tiger capsicum plaster is easy to use, but after all, it has medicinal properties, so too many patches are an overdose.
There are many types of Tiger capsicum plaster, for different causes of pain, the treatment and medication used are different, so you can consult your doctor or pharmacist before purchasing to understand the ingredients, uses and precautions of the medication used. There are three principles for proper use: read the instructions for Capsicum Pain Patch, use one patch at a time, and avoid using it over a large area for a long period of time.
The pain medication contained in Capsicum Pain Patch will be absorbed through the skin, unlike stickers that can be applied to the hands, feet, shoulders and back at the same time, as this may cause excessive absorption of the medication, causing side effects to the liver, which is responsible for metabolism, and increasing the burden.
In ddition, the effect of a Capsicum Pain Patch only lasts for 4-6 hours at most, and should not be used for more than 6 hours. If you experience allergies such as ashes, redness, swelling, or itching after use, or if your pain symptoms do not improve after continued use, stop using the patch immediately and seek medical attention.
01. Number of Capsicum Pain Patch
The amount of hot capsicum plaster to be used per day should be limited to no more than 2 patches, each about the size of a palm of your hand or a B5-sized patch.
02. Duration of use of
Capsicum Pain Patch
It is not recommended to use the patch before going to bed. "Many people put it on at night, but once they sleep for more than 6 to 8 hours, the chance of allergy will increase. If your skin starts to itch before 6 hours, you should remove the patch immediately. Also, do not put it on places with eczema or wounds to avoid infection.
Some people change the patches every 2 or 3 hours, so frequent changes may also cause overdose, so do not repeat 3 patches on the same area a day. In addition, the ingredients of commercially available herbal patches may be more complex, and may contain both Chinese herbal and Western medicine ingredients. So, Kangdi's Capsicum Pain Patch is a good choice for temporary relief of minor aches & pain of muscles & joints associated with arthritis, simple backache, For temporary relief of minor aches & pain of muscles & joints associated with arthritis, simple backache, strains, bruises, sprains.
03. What should I pay attention to when using Capsicum Pain Patch?
Apply the patch once a day for 4-6 hours, more than that may cause skin allergy. Capsicum patch is applied to the painful area, which can reduce the concentration of absorption by human body and is relatively safe. However, the medicated cloth is a "medicine", so excessive use will still cause problems, and an overdose may damage the kidneys. Basically, it is quite safe to put on one piece a day. However, do not put it on for too long, otherwise it will easily cause allergies and itchy skin rashes.
In addition to the timing and dosage of the patch, there are three other conditions that are not suitable for the Capsicum Pain Patch according to previous studies.
1. After sun exposure: After sun exposure, the blood vessels in the skin will dilate, accelerating the absorption of the medication and possibly causing discomfort.
2. After drinking alcohol: Drinking alcohol is already harmful to the stomach, and some of the ingredients of the patch are also harmful to the stomach, so it may increase the possibility of stomach pain or stomach bleeding.
3. After soaking in soup: Soaking in soup will make blood vessels dilate, accelerate blood circulation throughout the body, and increase the absorption of drugs. It is recommended that the Capsicum Pain Patch be applied after the bath when the body is cooler and not hotter.