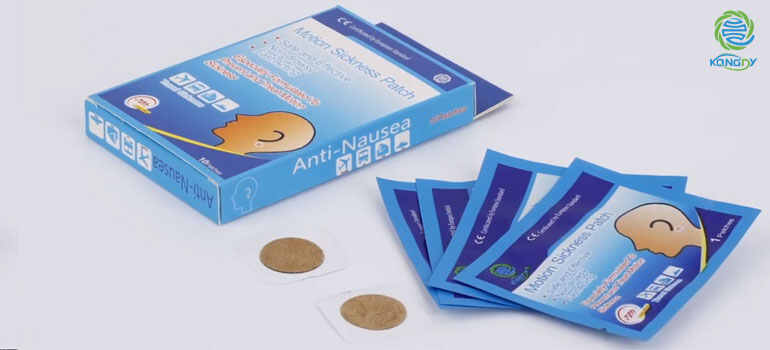 2022-09-19
KONGDY Motion Sickness Patches, Make Your Journey More Enjoyable
01. What are Motion Sickness Patches ?
The motion sickness is a new class of people in today's society. Whenever there is a problem with motion sickness, most people will choose to take motion sickness medicine, but often say: "It is a three-point drug," or sickness medicine or not. At this time, there is also a new cure for motion sickness artifacts, that is, motion sickness stickers. The motion sickness sticker is mainly attached to the human ear, and relies on the fragrance of lemon essential oil and the evaporation of ethanol and menthol to reduce the body motion response.
02. Kongdy brand - the best manufacturer of Motion Sickness Patches
KONGDY focus on produce all of the kinds of health care product, all of our products comply with international quality standards. Have been passed the CE and ISO GMP,BV,TUV,FDA.Through 29 years expression, integrating scientific research, equipment,production, test, marketing as a whole, kongdy has become a largest manufacturing base of herbal plaster in China.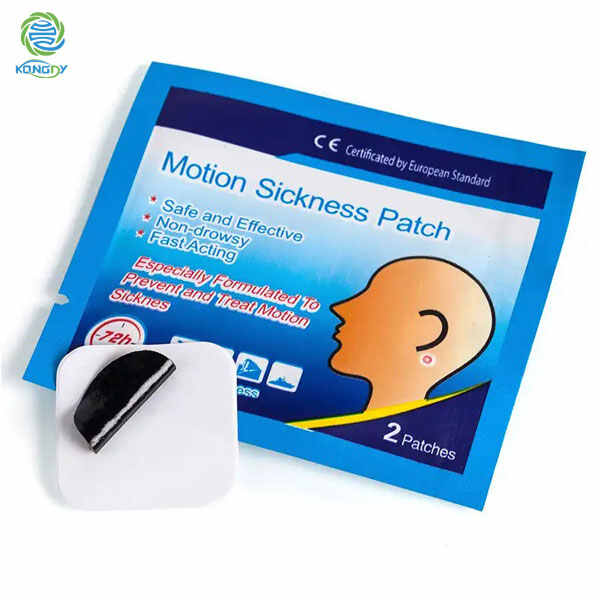 03. Advantages of Kongdy Motion Sickness Patches
FDA&CE Certified. Waterproof and sweat-proof, light and convenient, easy to use and carry. These nausea patches motion sickness patches are excellent partner for travel. Compared with traditional pills, not contain sleeping factor, much easier than the pills, quick onset and without the drowsiness. The nausea patch motion sickness patch is not pill, no need to swallow.
2 patches/bag, total includes 100 patches. More quantity patches, more convenience to use. Take out 2 patches Tear the protective layer of the patch, adhere the adhesive layer to the back of your right and left ears, please use sickness motion patches half an hour before cruising. The effect of every patch will last about 72 hours. The nausea patch motion sickness patch are not easy to fall off.
04. Kongdy Motion Sickness Patches Actions and Ingredients
The nausea patch motion sickness patch relieve the Cruise, Vomiting, Nausea, Dizziness, Anorexia and other symptoms resulted from sickness of Cars, Ships, Airplanes, Trains, Subway and other means of transport. Also family use while traveling, flying or driving. Perfect gift for tourist during corporate travel. Best partner for fishing or roller coaster. Let you stay away motion sickness and enjoy the journey.
Mainly ingredient: Safflower, Borneol, Frankincense, Pinellia Tuber, Tall Gastrodia Tuber. By expanding the capillaries of the skin, to improve the microcirculation of body and increase the amount of oxygen to brain, thus comes to the effect of refreshing your brain. All 100% pure natural herb application of nausea patch motion sickness patch, green, healthy, gentle and non-stimulating to body.
05. The correct way to use Kongdy Motion Sickness Patches
1. Tear the protective layer,adhere the adhesive layer to the navel or the back of your ears.
2. One/two patch per time,according to your body condition,Painless to remove.
3. Placing patch behide ears and 15 minutes later will feel better, the effect last for 72 hs and non-drowsy.
Patch Advantages: Lightweight, Easy to Carry and Use. Much easier than the pills and without the drowsiness. Put behind your ear or on your navel before traveling.Adopt the topical transdermal controlled- release technology,to work directly to the key point ,one patch each time which will last 72 hours.