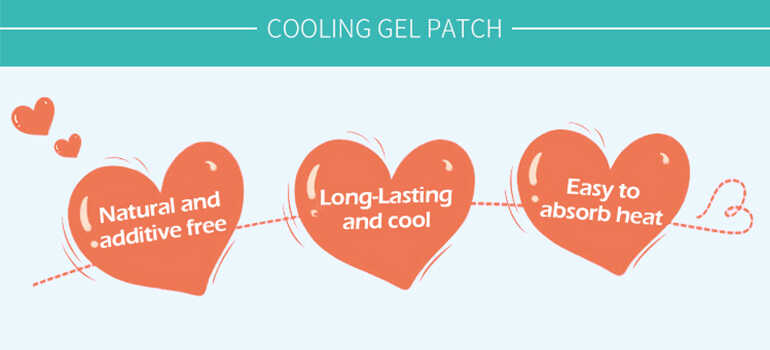 2023-03-17
How Effective is Reducing Cooling Patch?
Reducing cooling patch is a very common product on the market, usually most mothers use it for their babies when they have a fever, we can call it pediatric fever reducing patch, although adults can also use it, but in comparison, it is more used by children, so here we have to understand the role and effect of the fever reducing patch and the correct method of applying fever reducing patch?

01.Reducing cooling patch role and effect
Reducing cooling patch is a kind of external patch with the effect of reducing fever, reducing fever patch is mainly a physical fever reduction method used by children and infants in the state of fever, reducing fever patch can be applied to the forehead, armpits and other parts of the body to increase the heat dissipation function, applicable to the baby after the cold caused by the body temperature is not too high in the case of fever treatment. The fever reducing effect is better when applied to the forehead area of the baby, and generally children's body temperature does not exceed 38.5 degrees without taking antipyretic medication. Cooling patch can be used as an auxiliary cooling method. In addition, when your child has a fever, you must pay attention to drinking more water and urinating more often, and if the fever persists, take your baby to the hospital for a relevant examination as soon as possible to find out the cause of the disease and treat the symptoms.
02. The correct way to apply Reducing cooling patch
Reducing cooling patch is a physical cooling method. When using Reducing cooling patch, children should first wash their head and wait until it is completely dry before tearing the side of the patch and applying the adhesive side to the child's forehead, the back of the neck and the points on the chest. Most people stick to the forehead of the child, and must read the instructions carefully, there are some antipyretic paste is not suitable for children under three years old. And there is a certain time limit for fever patches, about 8 hours after tearing, if there is still no sign of fever reduction after a day of patching, then do not use this method of cooling. Also, some babies have very delicate skin, so if skin allergies occur when applying the Reducing cooling patch (although the probability of this happening is very low), then do not use this method to reduce fever. You can take a bath in warm water or go to the hospital promptly to check the cause of the child's specific illness to be able to have a specific cooling effect.
If you need a fever reducing patch to cool down, Kangdi's Reducing cooling patch is the best choice, it is safer and more effective compared to the fever Reducing patch on the market, it can reduce fever, refresh mind, relieve pain. Please click for more information.